About the Site
Prior to the commencement of the decommissioning project, this 88-acre site, located in Clarecastle, Co Clare, comprised 10 buildings (including what is locally known as the Fisherman's Cottage on Patrick Street, Clarecastle). Most buildings were specific to pharmaceutical manufacturing and were built in the 1970s
Whilst there were 300,000 square metres of covered offices/buildings on-site, approximately 50% of the site did not contain buildings.
There were over 200 piece of equipment and circa 210 kilometres of pipework throughout the site.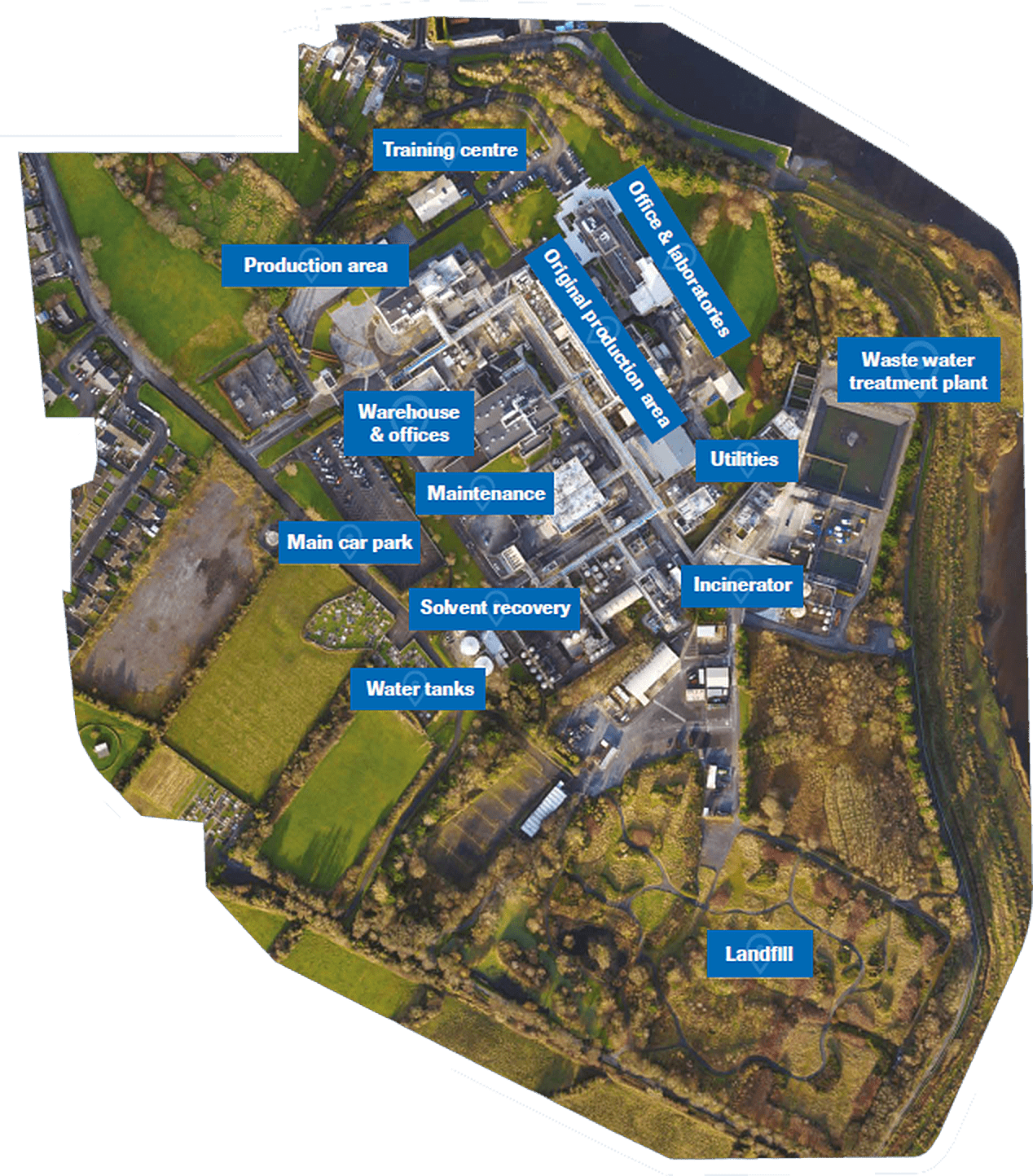 Roche's objectives for the site are two-fold:
To deliver a site suitable for the creation of sustainable jobs into the future
To leave a positive legacy in the local community, Clare, and Ireland
These objectives are driven by Roche's Global Remediation Policy and the principles of its Corporate Social Responsibility, which exceed current Irish legal requirements and the Environmental Protection Agency's (EPA) requirements.
Roche believes that existing landfills containing hazardous wastes with the potential to impact the environment should be addressed proactively, even if this entails applying solutions exceeding the individual country's legal framework... protecting the environment is an integral part of Roche's business, far exceeding any legal or social obligation.
To achieve the above, it was necessary to demolish buildings on-site that had no future use, and excavate and remove contaminated soil and material in three areas on the site, including the landfill.
All of this work is controlled and governed by:
Planning permission received, and conditions therein, from Clare County Council
A new Industrial Emissions Licence (IEL) from the EPA
    In undertaking this decommissioning project, Roche will be guided by its policies and practices, namely:
That the protection of residents and the environment is of the highest priority to Roche;       
That workplace safety is key to protect workers, residents and the environment; and      
That Roche strives for proactive and open stakeholder information sharing and engagement with the public.